New Poster For My Week With Marilyn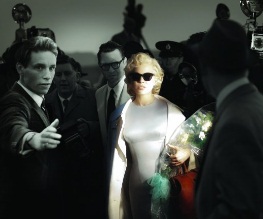 We've seen the movie stills, now it's time for a brand-new publicity poster for My Week With Marilyn. Depicting a similar scene to the one we've already checked out on the left, the studio have released a new look at the faux Monroe. Just in time to rouse up some excitement for the biopic's premiere at the New York Film Festival next month.
And haven't they done an amazing job with Michelle Williams? As if the iconic platinum blonde curls and Monroe regalia weren't enough to make her ooze with Old Hollywood glamour, they've thrown her against a horde of black and white paparazzi, an effect we've seen in both sneak previews.
Reckon that colour against film noire effect is just for publicity, or will it bleed through into the film itself? Now that could be interesting. Very interesting indeed. I guess it's a game of wait-and-see for now.
Based on the diary of Colin Clark, a man tasked with chaperoning the on-screen sexpot around Britain during the filming of The Prince And The Showgirl, this looks set to showcase Monroe's complicated relationship with the spotlight.
Michelle Williams is joined by Kenneth Branagh, Judi Dench, Emma Watson (yup, she of Harry Potter fame), Dominic Cooper and Eddie Redmayne. And we are, without a shadow of a doubt, very excited to see this the moment it hits UK cinemas.
About The Author