New poster of Brad Pitt in Killing Them Softly
Andrew Dominik's hotly awaited new film Killing Them Softly has released a brand spanking new poster which is getting our knickers in a twist this fine morning. Courtesy of the folks of Huffington Post, we've managed to nab it and let you share in the excitement. Gangster drama Killing Me Softly stars Brad Pitt, Ray Liotta and Monsters lead Scoot McNairy and is set for UK release on Friday 21st September. So get that date down in your diary and check out the new poster below!
(Click to go big)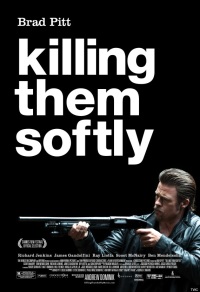 We love the clean aesthetic of this. Simple, punchy white on black font with a tasty pic of Brad Pitt brandishing a nice gun (as it should be). Dominik has shown with his two other directorial ventures – Eric Bana's breakout film Chopper and The Assassination of Jesse James by the Coward Robert Ford – that he's got serious chops when it comes to surprising, nuanced and original filmmaking.
And here's the trailer for Dominik's upcoming Killing Me Softly in case you missed it the first time round:
Excited for Dominik's third feature? Let us know below!
About The Author