New posters for Happy Feet 2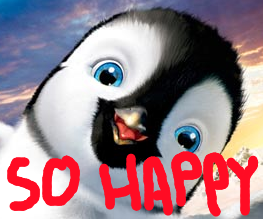 It looks like our apparent obsession with penguins penguins bloody penguins is going nowhere. After the success of Happy Feet, March Of The Penguins, the Madagascar films, and Mr Popper's Bastard Penguins, the flightless critters are back in Happy Feet 2: Dangerously Happy.
The original starred the voicey talents of Elijah Wood and Robin Williams, and the sequel hosts a veritable smorgasbord of A-list talent: Brad Pitt, Matt Damon, Pink, Hugo Weaving, Hank Azaria and Sofía Vergara have all been added into the mix. Set for a November release, team Happy look to whet our icy appetites with some pictures of happy penguins. HERE THEY ARE, HERE ARE THE HAPPY PENGUINS:
I envy their joy.
About The Author