New Prometheus Stills Available Online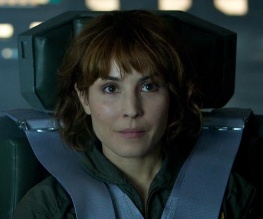 Are you excited about Ridley Scott's Prometheus yet? We are! We sometimes lay awake all night imagining how very amazing and wonderful and completely dissimilar to Alien it's going to be.
Okay, so we're lying. We think it's going to be JUST like Alien. But that's not a bad thing, is it? We love it when humans head off on a scientific expedition to discover the origins of mankind and, instead, uncover an alien civilisation. That poses a threat to them. And mankind. AND EVERYTHING IN THE UNIVERSE EVER!
So are you ready to eyeball the brand-new film stills, courtesy of Kino Gallery? Yeah you are!

Buckle up Noomi, it's gonna be a wild ride!

That seatbelt isn't going to save you, dude. Ridley Scott's pretty much guaranteed to wipe out the entire Prometheus crew before the film is over…

Charlize Theron has taken on the all-important role of interior decorator aboard the ship. Her choice of unusual red seats suggest she may be something of a villain; just look at Laurence Llewelyn-Bowen if you don't believe me!

This guy looks really concerned. Either there's some bad alien shit going down or there's a hair in his smoothie… fingers crossed it's the former!

Oh Idris, unfurrow that brow! Space captaining can't be THAT stressful…

Guy Pearce's character apparently has a God Complex. You can totally tell by his glasses and all-white ensemble; who does he think he is, anyway? God!? Oh…

Charlize's unreadable expression is bathed in unnatural light. We don't know what this means, but it's very pretty to look at, isn't it?

Michael Fassbender's gesturing us towards a tunnel. It doesn't look like a very nice tunnel at all, does it? Fuck you Fassbender! We don't care how well you're hung, we ain't following you down there…

"Hey… hey guys! I think I've found something. I totally think I've found something alien and… ARGHHHH!"
What have YOU learned from the new Prometheus stills? Anything? Anything at all…?
About The Author