New Retreat Trailer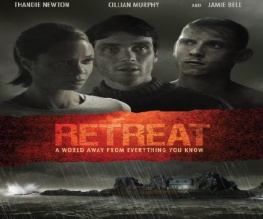 Ooh new nail-biting thriller alert!
Written and directed by complete unknown Carl Tibbetts, Retreat sees couple Martin and Kate (Cillian Murphy and Thandie Newton) holidaying on a far-flung rainy island. They soon discover that they are not alone, as psychotic Jack (Jamie Bell fresh from The Eagle and in all his bad-ass tattooed hot-bodded glory) collapses in front of them telling tales of viral pandemic in the rest of the world. Oh dear.
Retreat also comes with the added bonus of watching its British stars speaking in their own accents. No release date yet, but the trailer looks nice and eerie. Is Jack telling the truth? Who knows? I am already a bit scared.
About The Author