New Silent House Trailer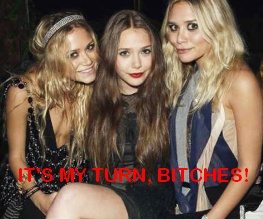 You know what we need? More horror films. No, strike that. More GOOD horror films. Which is why we here at BFF have such high hopes pinned on Silent House, despite the fact it is actually a remake of the Uruguayan film of similar name.
It's a little bit Hitchcockian, in that it professes to have been filmed in REAL-TIME. That makes the horror immediate, claustrophobic and pretty gosh-darn spooky. It also stars Elizabeth Olsen in her first breakaway role. I know what you're doing. You're going "Olsen. Olsen? I know the name but I just can't place her…"
She's the younger sister of Mary-Kate and Ashley, those peppy little blondes who starred in such classics as Two Of A Kind, Double, Double, Toil And Trouble and It Takes Two. But does it REALLY take two, Olsen twins? It seems unlikely, proven by the infinitely-more talented Elizabeth in the following trailer…
So, this suggests we've got 88 minutes of oh-my-god-what-was-that to look forward to. In fact, we've 88 minutes of overpowering silence, of creepy figures, of strange bumps in the night, of the things you spy out the corner of your eye well on its way. And it comes complete with a fresh-faced Olsen breaking free of her older sisters' clutches and making it on her own.
Chilling or gimmicky? Promising or utterly doomed? Whatever the conclusion, it's not Paranormal Activity 4. And for that, my dears, we are overwhelmingly grateful.
About The Author