New stills from Richard Linklater's Before Midnight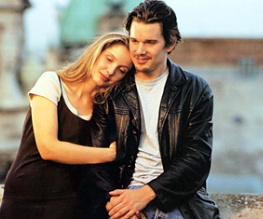 Richard Linklater's final chapter of his trilogy, already featuring Before Sunrise (1995) and Before Sunset (2004), has premiered at Sundance Film Festival (at a midnight screening) to excellent reviews. Released today are new stills from Before Midnight, charting the romance between Ethan Hawke and Julie Delpy, which is finally, 20 years later, beginning to show the cracks.
The stills reveal the couple walking together in Greece, where they are holidaying at the beginning of the film, checking in at their hotel and then having dinner together beside a lake. Now in their 40s and married with twins, Jesse (Hawke) and Celine (Delpy) are still very much in love, but their star-crossed love has become a more complicated affair with Jesse having a grown-up son from a previous marriage he wants a closer relationship with. Take a look at the stills below and click to enlarge.
Twitter has been awash with fans of the film picking apart the new images, and discussing whether they suggest that the couple is drifting apart. However, first reviews from Sundance are favorable, saying that the romance still grabs our attention nine years after its last revival and that the style of the film, where the couple are consistently walking through streets while talking about the nature of love, is ageless.
Before Midnight has yet to gain distribution, but it is highly likely it will by the end of the Sundance Film Festival.
Are you looking forward to Before Midnight? Let us know below.
About The Author