New stills from Ridley Scott's Prometheus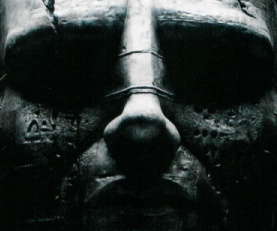 Some exciting stills from Ridley Scott's upcoming Alien prequel have come our way courtesy of Bloody Disgusting. The film, which stars Noomi Rapace, Michael Fassbender, Charlize Theron, Idris Elba, Guy Pearce, Rafe Spall, Logan Marshall-Green, Ben Foster and Patrick Wilson (all the names! It's like Love Actually in space) has been shrouded in secrecy and has spent its life confusing us here at BFF. We're pretty sure now, though, that the film will indeed be called Prometheus and will star, at the very least, the people in the photos below. So have a look at them (click to go large).
Well this first one appears to be a big stone head. Hi, Mr Stonehead!
This second one has some real people in it who appear to be – hey look! It's Mr Stonehead again! He's everywhere these days. And there's Charlize and Idris chilling on the deck of the Prometheus. Wouldn't they make a handsome couple? (Come to think of it, why are these genius space travellers all so physically attractive?) There's a nice, incredibly vague quote from Ridley Scott on the side there – "fans of the original Alien will definitely notice some things". God, why don't you just RUIN it for us, Ridley?
And here's Noomi, Michael and Logan hanging around looking like their heads have been stuck on. That's weird. Those lights in their neck bits must make their necks hot. And is that blonde hair on Fassy? Someone's been using the Sun-In!
These are kind of cool, we think. They look a bit photoshopped and don't really give much away, and we'd like to see photos of the other peeps, like Patrick Wilson and Rafe Spall. But we admit it, we're excited. The film is due for release next June.
About The Author