New stills from Wrath of the Titans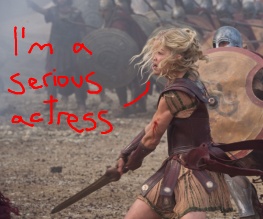 Ahead of its inevitably disastrous conversion into clunky, pointless 3D, Warner Bros. have released a few more images from Wrath of the Titans, the crap sequel to a crap remake of an endearingly crap film. Savour the bi-dimensionality; it won't last.
The images show overrated meatsack Sam Worthington frowning in a variety of different lights, as well as Rosamund 'I swear I used to be a proper actress' Pike clutching desperately at a sword with the presumable intention of ramming it into her abdomen.
Click the pictures to make them endlessly, pointlessly bigger:
Well, that was underwhelming. Wrath of the Titans is out at some point this year, and if all you bastards hadn't gone to see the last one despite it being utter garbage then maybe this wouldn't have happened. Do you know what they've done to Bill Nighy? They're making him play Hephaestus. Bill Nighy! Hephaestus! You make us sick.
About The Author