New Teenage Mutant Ninja Turtles gets a release date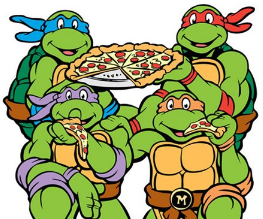 Few concepts truly speak to the human soul like the simple beauty of an adolescent mutant turtle fighting bad guys, loving pizza and listening to Vanilla Ice with his best buds. For that reason, we're DAMN excited to tell you that Christmas 2013 will be about one thing and one thing alone. Turtle power.
Sure, this is a project that has been in development hell for over a year now, with the writers – Josh Appelbaum and Andre Nemec – taking a short break to write, shoot and promote Mission Impossible: Ghost Protocol in the interim. But now it looks like things are finally moving, with Paramount announcing a release date of December 2013. No director has been confirmed yet, though there are whispers that Jonathan Liebesman (of last year's Battle Los Angeles and this year's Wrath Of The Titans ) is circling the project.
So the question now is, considering just how traumatic the 2007 outing was for our half-shell heroes (the title was just TMNT, remember that?), what 'new direction' can the franchise go in? And can anything ever top the brilliance of the 1990 Concert Tour we've just found out about; apparently entitled "Coming Out of Their Shells" and featuring Donatello on keyboards, Leonardo on bass guitar, Raphael on drums & sax and Michelangelo on guitar?
We have literally no idea what to think about this, so for now we're just going to watch the opening titles and try not to worry about anything else:
God we miss the 90s.
About The Author