New trailer for Arthur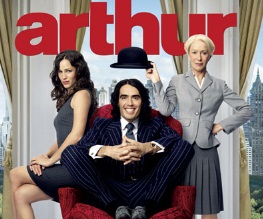 Alright, so it's basically the same as the first one, but dammit the whole thing is still infuriatingly charming.
A few weeks ago we got the first trailer for Arthur – a remake of the Dudley Moore 1981 classic starring Russell Brand and Jennifer Garner. It was funny, silly and it had Helen Mirren donning a Darth Vader mask; basically we were totally satiated. Well, trailer 2 is now out for your delectation, and to be honest, it's much of the same. Literally, it's pretty much the same scenes. AND YET WE ARE STILL CHARMED. We blame the Queen soundtrack.
Take a look:
See what we mean? The only development is that we get to see a bit more of Arthur's love interest, played by the lovely Greta Gerwig (originally played by Liza Minnelli doncha know). We reckon it's going to be an extremely easy watch, hopefully punctuated by some great comedy performances. What do you think?
About The Author