New trailer for Jospeh Gordon-Levitt's 50/50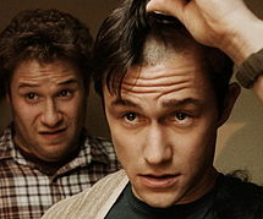 When you think of inevitable movie pairings, you might not necessarily jump to Joseph Gordon-Levitt and Seth Rogen – but judging by the trailer for 50/50 (formerly titled I'm With Cancer), we were all fools. They have teamed up for what looks to be a dark comedy about a young man (Levitt) who discovers he has cancer, with only a 50% chance of survival. Hilarious? It actually looks like it might be.
Take a look at the trailer below, and don't get too attached to Joseph's lovely mane.
Obviously this subject matter was always going to require a delicate touch, but it very much looks like the combination of Rogen's effortless comic timing and Levitt's inherent charm will make this a cut above the comedy we've seen this year so far. It's always nice to see Anna Kendrick in whatever capacity, and considering we're in the exceedingly talented hands of the Superbad team, there's a lot to feel confident about. Out in the UK in September, we're quietly excited about this one.
About The Author