New trailer for Love Wedding Marriage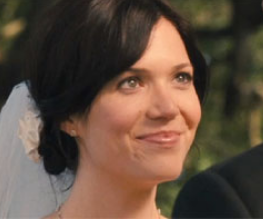 Ahhh, mediocre rom-coms – where would the film world be without them? Like the margarine holding our collective cinematic sandwiches together, I'm sure we'd miss the dry, unsalted world they'd leave behind if they all suddenly disappeared. Perhaps. Anyway, Mandy Moore is holding up the 2/5 team admirably with what looks like an utterly unremarkable film called Love Wedding Marriage.
This time around Miss Moore plays a marriage counselor who a) gets married! and b) has to counsel her own parents through a divorce! With her own relationship suffering at the hands of her parents' imminant break-up, Mandy's Character's Name has to find a way for LOVE to win through despite all the odds. Cue some lessons about the nature of commitment, a teeny bobber soundtrack and probably a rush to some kind of airport to finish it all up. Lookie:
Are we being too harsh? Maybe. But come on, really ask yourself – does the world need another film like this?
About The Author