New Trailer Released For The Rum Diary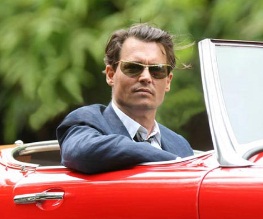 "It's where your secrets come to dance and the voodoo works its magic."
Ooh, what's this? We FINALLY get a trailer for Bruce Robinson's much-hyped The Rum Diary? It would appear so. And, praise be, it looks like it's well been worth the wait.
Adapted from Hunter S. Thompson's unruly tale, we already knew that the film would follow the exploits of alcoholic journalist Paul Kemp (Johnny Depp) as he accidentally uncovers a story of corruption and intrigue in Puerto Rico. But that was pretty much the limit of our knowledge. Until now, that is…
So what do we get from the trailer? A beautiful Caribbean backdrop, with a funky Trinidadian calypso beat bumping along in the background. Johnny Depp, looking like he might be playing his best role in ages, simultaneously diving between serious and downright hilarious. And he's in full colour too! It's a far step from that whitewashed Burton-esque look he's been sporting of late. Amber Heard is set to play his sexy younger girlfriend and, thanks to a sneak peek, we just know there's going to be a very intense shower scene that might very well get a few people hot under the collar.
Crime, alcohol, sex, booze, fast cars and general hilarity. It's a bit like James Bond on speed. We can't WAIT to see this when it hits UK cinemas on November 4th…
About The Author