New TV spot and character posters for Star Trek Into Darkness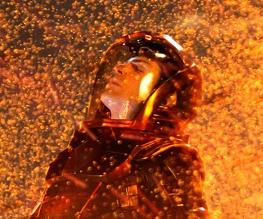 Chances are if you're not excited by the prospect of Star Trek Into Darkness by now, you probably never will be. It's nothing to feel bad about, it just means that you're no fun  it's not your thing.  Still, with the UK release date of May 9th just a few weeks away, you can't begrudge the marketing department giving things one last push.  On the other hand, if you can, it turns out you're more miserable than we thought this really is not your thing.
Let's start with the new TV spot. With the, erm, highly esteemed MTV Movie Awards having aired this past weekend, Hollywood decided to take the opportunity to remind us all of a number of the summer's upcoming movies and amongst those stepping into the spotlight was, of course, Mr J.J. Abrams' upcoming space adventure.  Sadly there doesn't seem to be much in the way of new footage present in the clip, but what we do get are a new set of captions flashing before our eyes, which – rather amusingly – seem to tell us that NOTHING WE'VE SEEN CAN PREPARE US FOR BREASTS! Check them out below. The captions we mean…
Perhaps they meant nothing could prepare us for this hidden poster we found lurking behind Alice Eve's scantily clad form during the last trailer? We'll leave you to make your own minds up on that one.
Meanwhile, staying on the subject of posters, in a move that was probably slightly less rushed and little more artful, Apple have provided fans with four new character centric one sheets. Focusing on Chris Pine as Captain Kirk, Zachary Quinto as Spock, Zoe Saldana as Uhura and Benedict Cumberbatch as the film's villain (possibly named John Harrison), the posters promise crouching, running, lava, strong winds and red foliage – plus they let us know that the film's Spanish title will be En La Oscuridad – all of which sound pretty cool to us. Especially "oscuridad".  Click the pictures below to embiggen.
Until the film itself hits, what more could you want? We can't think of anything, but if Mr Abrams' team decide that they can, we'll be sure to keep you posted.
No poster for your favourite character? Try not to fret too much – Star Trek Into Darkness is released in the UK on May 9th.
About The Author