Nick Robinson braves Jurassic World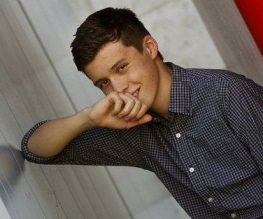 For many of us, Jurassic Park was what childhood fantasies were made of. At the hands of Steven Spielberg, the Michael Crichton novel took to the screen as a thrilling foray into wish fulfilment that surpassed any and all expectations for special effects of that time. The film raked in more than $914 million, worldwide, and spawned two slightly less thrilling sequels, The Lost World in 1997 and Jurassic Park III four years later. 12 years may have flitted by since but it seems the dino-terror bug hasn't waned for old Stevie.
Since the fourth instalment was announced earlier this year, Jurassic World has been gathering together a cast. First up was Bryce Dallas Howard, who we last saw 2 years ago when she played the self-absorbed girlfriend of Joseph Gordon-Levitt in 50/50. Next to be contemplated was 12 year old Hollywood veteran, Ty Simpkins, who you might remember from the recently released Iron Man 3 and Insidious 2. But before either of them, it is the role of the older brother that has been finally confirmed. Nick Robinson, who started on the sitcom Melissa and Joey but really made his name in the indie drama Kings of Summer, has been signed on for the part in this highly anticipated instalment.
Relinquishing the chair to director Colin Trevorrow, Spielberg will nevertheless be involved in bringing the latest addition of this franchise, Jurassic World, from in-development limbo to pre-production reality. The screenplay, penned by Trevorrow and writer Derek Connolly, is rumoured to be returning to the original Isla Nublar location and featuring a couple of underwater dinosaurs, just for kicks. Jurassic World will be lumbering into cinemas on June 12, 2015.
About The Author