NWA children may portray their fathers in biopic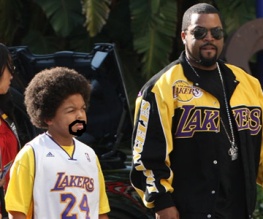 NWA, you remember those guys right? Dr Dre, Ice Cube, Arabian Prince, all the old gang. They pretty much created gangsta rap with their obscenity-ridden, anger-fuelled lyrics, commenting on the state of society and the plight of the black community in 80s America. The group attracted their fair share of controversy – due to the offensive nature of their lyrics – and eventually broke up in the early nineties, publicly reconciling after the tragic death of one member, Eazy-E. Come on people, you KNOW that sounds like a film plot. We can almost hear the tragic strains of the cello as Dr Dre walks slo-mo through a rainstorm.
New Line Cinema is behind the project, currently titled Straight Outta Compton, and word is that John "Boyz n the Hood" Singleton is attached to direct. And now Dr Dre himself has piped up, claiming that there is a small possibility the lead roles in the film could go to the actors' children (their sons, presumably). We think that could work. Judging by this photo of Ice Cube and his son O'Shea Jackson Jr – who have exactly the same face – the casting could be spot on. Unless they're all terrible actors, obviously.
Are you excited for this project? And who would YOU cast? Let us know!
About The Author