Nymphomaniac trailer shown to Florida children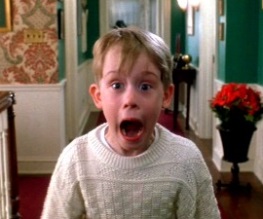 An audience of children (and parents, for whom it was presumably a godsend) were recently treated to the trailer for Lars Von Trier's Nymphomaniac whilst waiting to see new Disney film Frozen.
A technical error was allegedly behind the mix-up, which saw Tampa parents (or, realistically, grandparents) covering the eyes of their young charges and dragging them out of the cinema. Our money's on 'disgruntled projectionist', but whatever.
Speaking to some awful American outlet, grandmother (we told you) Lynne Greene said: "They put in the filler, it looked like Steamboat Willie, the old Mickey Mouse cartoon, and then all of a sudden it goes into this other scene. It seemed like forever when you're trying to, you know, cover a little guy's eyes. I didn't have enough hands to cover his ears too and he got the sound down real good." Obviously she's upset, which is never good – but if you have to choose what your kid is exposed to, surely hearing Stacy Martin saying "I want you to take my virginity" is preferable to seeing her drool semen? We think Lynne Greene should be counting her blessings.
If you haven't seen the trailer, now's probably a good time to do that:
[swfobj src="http://vimeo.com/moogaloop.swf?clip_id=80071592&server=vimeo.com&color=00adef&fullscreen=1″ width="400″ height="225″]
If we'd been dragged to the cinema by a truculent child to watch a bloody Disney film, we'd be praying for something like this to happen. Takes all sorts…
Will you be watching Nymphomaniac? How about Frozen? If you answered 'yes' to both, you should probably talk to someone.
About The Author