Obama not in new Movie 43 trailer, but everyone else is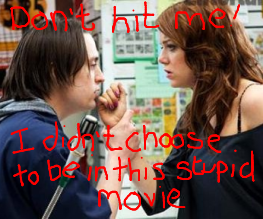 Barack Obama has been re-elected by the evidently smart and lovely people of America. That's the good news. Obama is also confirmed NOT to be in Movie 43, unlike the rest of the world. That is also a piece of good news. The bad news of the morning is that a new red-band trailer for Movie 43 has landed, and it's about as subtle as our Barack Obama/Seann William Scott erotic fan fiction.
Most of the trailer views like a call to arms for all actors everywhere to forgo their dignity, although the end of the trailer descends into Jason Sudeikis making jokes about Kristen Bell's vagina, over and over again. Thankfully we don't live in a world where Jason Sudeikis has to stare at Barack Obama's crotch and make jokes yet, although maybe after the next election?
It might just be funny. At the moment it looks less like a comedy and more like Valentine's Day with dirty jokes. Movie 43 hits the screen in late January 2013. Just so you know what you're getting into, Movie 43 will star (deep breath):
Emma Stone, Chloë Grace Moretz, Gerard Butler, Elizabeth Banks, "The Jacked-Man" Hugh Jackman, Josh Duhamel, Barack Obama, Kristen Bell, Halle Berry, Kate Winslet, Anna Faris, Naomi Watts, Uma Thurman, Richard Gere, Seann William Scott (of course), Liev Schreiber, Justin Long, Kate Bosworth, Johnny Knoxville, Stephen Merchant and Barack Obama. Okay, we might have made a couple of those Obamas up.
If you like any of those people, get ready to experience at least 14 seconds of each of them in Movie 43. What we've taken from this is that the film needs more Barack Obama, and that Jason Sudeikis needs to go away now, please.
Movie 43 – funny or stupid? Can we expect a cameo from the re-elected President Obama? (Spoiler! Probably not)
About The Author