Oblivion update: 4 snippets just for you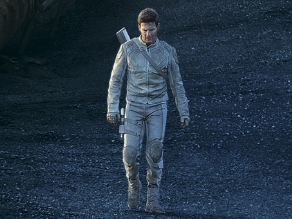 On the off-chance that the plethora of posters and that nail-biting trailer has missed the mark in getting you all riled up, the producers of Oblivion have very kindly seen to the release of 4 more clips. At just under or up to a minute in length the extracts are more expansions of scenes you have already been privy to in the trailer rather than brand new information but eh!, we're not complaining.
Get a gander at what you can expect come the 19th of this month:

Joseph Kosinski's gets all credit for this project as both the writer and director. His previous work with TRON: Legacy has proven his ability to create epic sci-fi thrillers, so it seems fair that Oblivion is already being heralded as "an original and groundbreaking cinematic event". Drawing in the star power of Tom Cruise definitely didn't hurt and the rest of the cast, comprising of Morgan Freeman, Olga Kurylenko and Andrea Riseborough, ain't too shabby either.
Cruise plays Jack Harper, one of the last few remaining humans, stationed on a devastated Earth as a drone repairman. With only Andrea Riseborough's Victoria for company, he patrols the skies until a crashed spacecraft containing with other humans brings all he knows about the war and the fate of mankind into question.
Can you stand the anticipation? Is this shaping up to be everything a good sci-fi flick should be? Or is the hype setting it up for failure? Let us know!
About The Author