Olga Kurylenko cast in Vampire Academy: Blood Sisters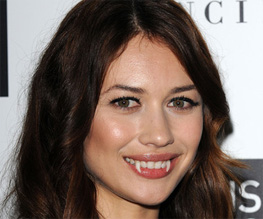 If there are two genres frequently overlooked – nay CRUELLY NEGLECTED – by Hollywood they are "Young Adult" and "Vampire Shit". Right? It's like, where are all the adaptations of young adult novels? And where are all the vampires? THERE AREN'T ENOUGH PUBESCENT VAMPIRES ON MY SCREEN RIGHT NOW!
Luckily for you and for everyone in the world, some Hollywood exec with their head screwed on has decided to make a film of young adult novel series Vampire Academy, by Richelle Mead. Taking the helm will be Mark Waters, the man behind Mean Girls and Mr Popper's Penguins (mixed bag there, Mark).
In case you're wondering, the series tells the story of Rose Hathaway, a seventeen-year-old Dhampir (part human, part vampire) girl who is training to be a bodyguard for her Moroi (FULL vampire) best friend, Vasilisa "Lissa" Dragomir. In the process of learning how to defeat evil undead vampires (aren't all vampires undead?) in St. Vladimir's Academy, Rose finds herself caught in a forbidden romance with her instructor, Dimitri Belikov, while having an unbreakable bond with Lissa.
Cool! That sounds fun. It's like St. Trinian's only with more blood! Or something! Who knows? Harry Potter? Does Harry Potter know what's going on here? Anyway, well known hottie Olga Kurylenko – who recently appeared in Oblivion – has been cast as the undeadmistress of Hogwarts Academy for Vamps. So that's nice. She can help them pass their vampire GCSEs and do their sorcery coursework and make sure they have enough extra-curriculars, like biting OAPs in the old people's home and making charity shop workers into vampires, so that they can get good vampire grades and go to vampire college.
We don't have too many thoughts on this whole story, mainly because we're still reeling from the news that someone is making a film of a young adult book series. WILL WONDERS NEVER CEASE?!
Are you excited about Vampire Academy: Blood Sisters? Of course you are.
About The Author