Orlando Bloom returns to Middle-earth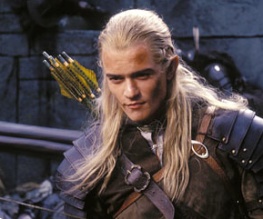 Shortly before Christmas, we gave you all a tentative word-present – the enticing suggestion that maybe, despite his character's total absence from the relevant books, Orlando Bloom might be gearing up for an appearance in The Hobbit. Well, after a wait even longer than the elf in question's pointy ears, we've finally got the goss: Legolas is coming back! SQUEE!
Peter Jackson used his Facebook page, the key location for snippets of Hobbit info, to announce the non-canonical return of Legolas Greenleaf to the franchise just minutes ago:
Interestingly, given last week's casting news this might be an interesting meeting of minds for Orlando – for the first time in almost fifteen years, he'll be appearing in a film with Stephen Fry. Fry, of course, starred in the 1997 biopic Wilde, in which Orlando had his first film role as a nameless rent boy. We're sure they'll have lots to talk about…
Bow-curvingly good news, or just another big disrespectful shit being squeezed out on Tolkien's coffin? Let us know below!
About The Author