Owen Wilson and Jim Carrey in a heist comedy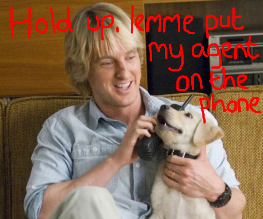 Owen Wilson and Jim Carrey are set to star in a Jared Hess-directed heist comedy. Originally titled Loomis Fargo (but currently without a definite title), the film has quite a few links to Saturday Night Live, and although it sounds like just another stupid comedy, actually may come as a surprise hit. Jared Hess is most famously known for the legendary Napoleon Dynamite, after all, and Owen Wilson can occasionally stumble upon funny.
Loomis Fargo (which is no longer called Loomis Fargo) tells the story of an armoured truck driver who is convinced to help a gang steal $20 million. Alas, upon completion of the job, they leave him stranded without his cut in Mexico, and he embarks on (a presumably comedic) mission of revenge. There's no word on which roles Owen Wilson and Jim Carrey will be playing yet, but either one could play the down-on-his-luck schmuck that gets played. If we had to bet, we'd place Owen Wilson in the abandoned-in-the-middle-of-the-desert role.
Owen Wilson has been rather busy of late. He's currently starring opposite Vince Vaughn in The Internship, out in the US right now and gasping for air in the box-office. We'll also hear Owen Wilson's voice acting talents as a time-travelling turkey Free Birds later this year, and he'll also be pitted against Zach Galifianakis in the road-trip comedy Are You Here, which sounds a) JUST AWFUL and b) a lot like Due Date. Someone please slap Owen Wilson's agent.
Next year, we will see Owen Wilson and Wes Anderson team up once more in The Grand Budapest Hotel, which is rather exciting, and he's also associated with Paul Thomas Anderson's Inherent Vice. Owen Wilson fans, if there are any left, should be beside themselves.
More news on the project formally known as Loomis Falls as we hear it! What are you favourite Owen Wilson films?
About The Author