Oz: The Great and Powerful's new trailer is SO PRETTY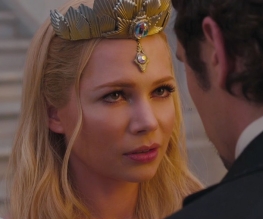 As the geeky gift that keeps on giving, Comic-Con has bestowed on us the newest trailer for Disney's impending blockbuster Oz: The Great and Powerful, directed by Sam Raimi (Alice in Wonderland) and it's as beautiful as the poster hinted at. Well, more so, what with all the motion and wind and magic and creepy dolls and stuff, but it's GREAT.
Starring James Franco (Howl), Mila Kunis (Black Swan), Rachel Weisz (The Constant Gardener) and Michelle Williams (Blue Valentine), the film is set before the events of MGM's 1939 version of The Wizard of Oz, back when The Wonderful Wizard (Franco) was just a Weaselly Wanker; a con-artist who gets swept away from dusty Kansas to Oz in a balloon, Franco's Oscar Diggs runs into three witches; Glinda (Williams), Theodora (Kunis) and Evanora (Weisz), who immediately start in with the whole Papa-can-you-hear-me (Yentl, not N-Dubz) routine to guilt him into being a decent human being. Williams' Glinda looks like she's going to be far less obnoxiously benevolent than previous portrayals, and Weisz's Evanora is clearly a delight and a half.
Reminiscent of ABC's runaway television series hit Once Upon A Time, the landscapes are sumptuous and inviting, and it's shaping up to the most visually ambitious work Raimi has ever produced. Unfortunately, we won't get to find out who the socking great green claw belongs to until 2013. In the meanwhile, just ogle the inside of that tornado.
About The Author