Pacific Rim has another poster! Come see!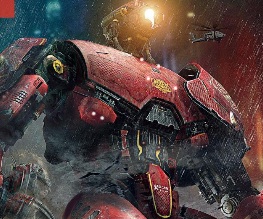 Guillermo Del Toro's monster mash movie Pacific Rim has debuted a one sheet poster for its Chinese robot Crimson Typhoon. There's even a tiny helicopter next to its head so you can get a sense of just how massive this thing is. To ensure that you actually remember which country this monstrosity is from, Crimson Typhoon is shown beating the bejeesus out of a Chinese town, and even has oriental golden insignia on its breastplate. For a bigger version of the below poster – click to enlarge.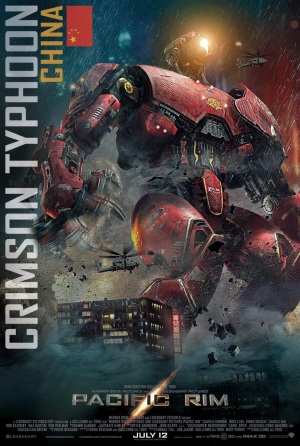 Armed to the mechanical teeth with all sorts of earth-shattering artillery, Crimson Typhoon looks to be a formidable opponent to Pacific Rim's Japanese and Russian monsters, revealed earlier this week. There's no word on which other countries will be getting a robot – if any – but we can't help but wonder what Britain's Pacific Rim avatar would look like…
Coyote Tango is what Japan brings into the fray, with Russia and Cherno Alpha bringing up the rear – click to enlarge 'em. Out of the three we'd have to put or money on Russia to absolutely wipe the floor with everything that crosses its path.
The plot of Pacific Rim is as follows. When monstrous creatures called the Kaiju start coming out of the sea with the sole intention of messing everything up; the human race build gigantic robots called Jaegers to take them on. It doesn't go well, and on the verge of defeat two unlikely heroes step up to the challenge and take charge of an ancient Jaeger from the past to save mankind. The stellar cast includes Idris Elba, Charlie Hunnam, Charlie Day, Ron Perlman and Burn Gorman aka Owen off Torchwood.
Pacific Rim, exciting or no? What do you think a British Jaeger would look like? Sound off below!
About The Author