Pacific Rim second trailer features more GLaDOS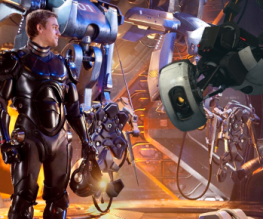 Pacific Rim is shaping up to be an absolute gem, being the love-child of Neon Genesis Evangelion and Power Rangers, and our anticipation levels are rapidly rising for the summer release date. Guillermo del Toro has slapped us with a second trailer for Pacific Rim, and while it's virtually the same as the first trailer, we do get big robots smashing each other, and a bit more of the GLaDOS voice from Portal!
Don't be worried that Guillermo del Toro has stolen the voice of the sexy and sultry Ellen McLain as GLaDOS from the makers of Portal 2: Valve have given Guillermo del Toro permission to use the robotic overlord's vocal inflections for his film adaptation of Robot Wars starring Sargent Smash and Matilda and Sir Killalot. Guillermo has said that the GLaDOS voice will have less effects added to it in the final cut of Pacific Rim, and that the electro-voice in the trailer is more of a jaunty eye-wink to Portal fans.
Idris Elba is CANCELLING THE APOCALYPSE when Pacific Rim throws a giant metal fist into your cinema screens on 12th July 2013. We'll see you opening night.
How do you think Pacific Rim is looking? Excited to hear GLaDOS having a friendly chat with Idris Elba over a cup of tea?
About The Author