Paul Potts: The Movie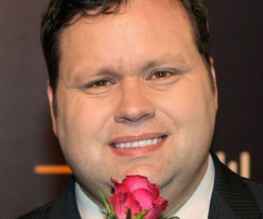 If only every film made was based on events occurring on Britain's Got Talent. Or any TV show for that matter. Maybe soon we're going to have films based on the making of other films made about a TV series about a presenter's journey to stardom on TV, and the whole business of entertainment will become one massive human centipede of diluted reality. Anyway. Paul Potts get a film! Yay!
The Bristol-born Carphone Warehouse salesman shot to stardom in 2007 after appearing on Britain's Got Talent, revealing a beautiful operatic voice and – more importantly – serious money making potential. Since winning the show he's had a number one album, has performed all over the world and has even been on The Oprah Winfrey show – the true measure of celebrity. Rumour has it that Marley And Me director David Frankel has agreed to take on his biopic, which was formerly held by Paramount. Hopefully shooting will begin in April.
The question now is, who will step up to play big man Paul? Feel free to leave your suggestions below…
About The Author