Pierce Brosnan romancing it up in new trailer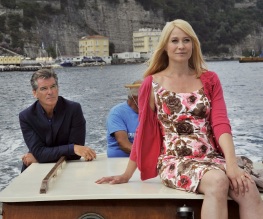 Well, well, well. Looks like Pierce Brosnan is becoming a bit of a movie Lothario if this trailer for new romance flick Love is All You Need is anything to go by. Admittedly, old 007 looks like he'll be playing the traditional late-middle-aged grouchy businessman with a heart of ice coming to terms with his emotions once again and having his old tired organ melted by Ms. Right (Trine Dyrholm), but still.
This ground looks like good territory for Pierce's charm, which we all know he has in big Irish bucketfuls. Acclaimed Danish director Susan Brier is the woman to sort him out we think. After making critically lauded compelling family drama after critically lauded compelling family drama for a decade – Brothers, After the Wedding and Oscar winner In a Better World, it seems Brier has taken a bit of a break and prepared for us a delightful late-life romance. Check out the trailer.
Dyrholm starts as Ida, a hairdresser who has lost her hair to cancer and lost her husband to another woman. In a bit of a bad place, she heads to Italy for her daughter's wedding and is by chance thrown together on the journey with curmudgeonly but handsome Philip (Pierce), who turns out to be the father of the groom. The Italian trip throws up a bit of a romance between them which, by the looks of the trailer and with Bier's track record in mind, looks like a promisingly energetic and mature depiction of a love affair. Kind of reminds us of old style Gregory Peck/Audrey Hepburn/Cary Grant/Katherine Hepburn romantic comedies.
We're quite looking forward to this one. The film will be in Danish and English and opens in the UK on 19th April.
About The Author