Piranha 3DD trailer debuts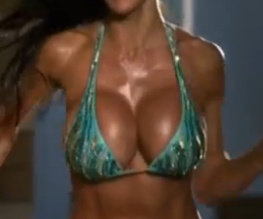 After the unlikely success of last year's Piranha 3D, fish'n'tits fans the world over have been anxiously awaiting the deliciously-named sequel Piranha 3DD. Well, the wait is nearly over. Promising "Double the Terror [and] Double the Ds", the first teaser for the inevitably gory and mammary-tastic follow-up is online – and it's nothing if not satisfying.
Have a look (put your drink down first):
OK, first things first. HASSELHOFF?! This is going to be fucking brilliant. In other news, you may have spotted:
– Piranhas. Natch.
– BOOBS. Double natch.
– HASSELHOFF. There are no words.
– Waterslides. The piranhas have made it into a water park. They're going to come down the slides and fly straight into people's faces/tits, aren't they? Super.
– Christopher Lloyd, doing his panicky and Doc Brown-haired icthyologist thing with even more aplomb than last time.
– Ving Rhames. Hang on, didn't he die in the first film? This is the last we saw of Deputy Fallon:
Well, now he's back with a shotgun on his stump. Wow, guys, do you not think people remember Planet Terror? Whatever.
Piranha 3DD was due out next month, but it's now been pushed back to some time next year. Watch this space, and make sure you check the toilet for fins before you sit down…
About The Author