Point Break remake has a director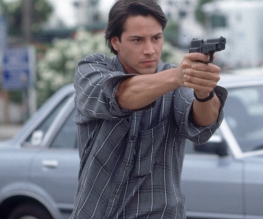 As you may have heard, Point Break, Kathryn Bigelow's 1991 FBI/surfing movie, will be getting a remake. In the original, rookie FBI agent Keanu Reeves infiltrates a surfing community to catch some bank robbers. The remake will stick with this vague premise, that an undercover FBI agent will infiltrate a criminal operation, but this time it's set in in the international world of extreme sports as opposed to the Southern California surf scene.
The film has been in the pipeline for years and there has been a hunt for a director for some time. Wally Pfister was rumored to direct it when his debut Transcendence was on the ropes (before being revived). However, we do know that Ericson Core (who has a REALLY good name) has agreed to take it on. Core's previous films include American football feature Invincible, which stars Mark Wahlberg. He is also knows for his cinematography on Ben Affleck's comic book movie, Daredevil.
We don't know about you, but here at  Best For Film, we are distinctly unexcited about this remake. We mean, what is the POINT of another remake? Give us a BREAK!
About The Author