Polanski in high spirits as The Ghost dominates EFAs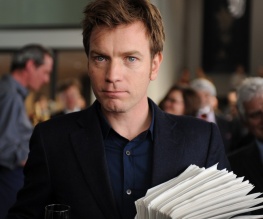 Roman Polanski must be feeling happier than all those kids who have the good fortune to live in countries which maintain practical extradition treaties with the United States this morning; his latest filmThe Ghost stormed to victory at last night's European Film Awards. The political thriller was honoured with top gong Best Film whilst Polanski and star Ewan McGregor scooped Best Director and Best Actor.
Polanski, who attended the ceremony in Estonia via a Skype connection, joins an élite cadre of Best Directors including Jean-Pierre Jeunet and Pedro Almodóvar. The Ghost also won awards for Best Screenplay (co-written by Polanski and Richard Harris, who wrote the original book), Best Score and Best Production Design, missing the top spot in only one of the seven categories in which it was nominated – and who's going to argue with Carlos winning Best Editing? Not us, that's who.
We're also glad to see that Polanski has learned from his mistakes – last time he was given an award outside France he decided to accept it in person, and we all remember how that went…
About The Author