Pompeii spews onto the big screen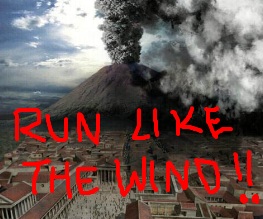 Pompeii! Massive tragedy for thousands, movie making miracle for others. One of the greatest disasters of the ancient world is being brought to a screen near you by Paul WS Anderson. Considering Anderson has brought a lot of disasters to the cinemas over the last few years, he seems like just the man for the job.
If some of you out there have read Robert Harris's epic novel Pompeii then lucky you. Sadly this film version of Pompeii has nothing to do with that book whatsoever. It has been described instead as a kind of Titanic for land. Dear Jupiter, please let it be good! Even though Pompeii has been struggling to get off the ground for years and has a pretty rubbish director attached to it, we must admit that we are slightly curious about the whole thing. The overwhelming tragedy of Pompeii means that we are still fascinated by it today and thousands of tourist a year pour through its ruined vias. Volcanoes, ash, pyroclastic surges…and a love story. Pompeii the film actually has the makings of something quite spectacular lurking underneath layers and layers of pumice stone.
Pompeii will star Kit Harington of Game of Thrones fame as a slave stuck on board a ship in the bay by Pompeii. When the volcano erupts Harington faces a race against time to get back into Pompeii to save the daughter of his master, who is also the woman he loves. The film will also feature other threads of stories as we see Harington's best friend and a gladiator all try to flee from the fiery, flaming death. Considering there is a preserved body of a gladiator still in the museum in Pompeii we have a sneaky suspicion at least one of them won't make it out alive…
Pompeii will begin shooting next year. We will no doubt have some more casting details for you in the not so distant future.
If you can't wait to see people get sucked up by lava then here is the first part of an amazing BBC documentary about Pompeii. (Seriously, it's great):
http://credit-n.ru/offers-zaim/online-zaym-na-kartu-payps.html
http://credit-n.ru/electronica.html
About The Author