Possible Beetlejuice Sequel?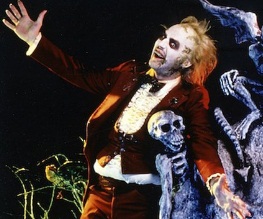 "Beetlejuice. Beetlejuice. Beetlejuice." And, like magic, the undead bio-exorcist would appear before your very eyes in the form of a grotesquely made-up Michael Keaton.
The 1988 Tim Burton movie, which also starred Winona Ryder, Geena Davis and Alec Baldwin, was an instant cult classic, telling the tale of a dead couple who wake up one morning to find that an obnoxious family have moved into their dream home. Now, some twenty-three years later, a sequel may finally be on the cards.
All we can say is thank goodness it's not another godforsaken remake!
Rumours of a possible Beetlejuice 2 have been rife for years and, finally, it seems as if they might come to fruition. Seth Grahame-Smith, the writer behind Abraham Lincoln: Vampire Hunter, has been busy talking up the idea as he launches his new production company, saying that he wants to "reboot it by advancing the storyline of the original" . Plus, with big working connections to Burton himself, the idea is actually pretty plausible.
Our thoughts? It'd have to be a very strong script to even come close to the original, which was deft, witty and rife with dark material. We'd also demand that Keaton puts back on the iconic stripy suit of the titular role, as he was completely and utterly fantastic. Would Winona Ryder get a sniff in, as a grown-up Lydia? Possibly. I guess that we'll have to wait and see…
About The Author