Prometheus is confirmed as R-rated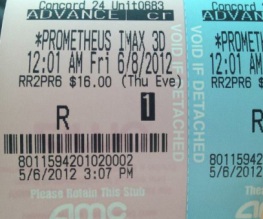 Alien fans breathed a sigh of relief the other week at the welcome news that Ridley Scott's Prometheus would not be cut in order to receive a preferential MPAA certificate; and it seems as if top Fox bod Tom Rothman spoke the truth when he said that "the film will not be compromised either way". Good for you, Tom Rothman.
A pre-sold ticket (pictured) for the hotly anticipated sci-fi film – bought, we have deduced, at the AMC IMAX which can be found at 8421 Concord Mills Blvd., Concord, North Carolina – was labelled with the rating R. This means that only cinema patrons aged 17 and over may attend the film unaccompanied, and is generally avoided by summer blockbusters in favour of mobilising the mid-teen market.
The BBFC has yet to return a verdict on Prometheus, although its Spanish equivalent has already rated it 18 – an unusual act in a country which is still very anti-certification after decades of General Franco's relentless cultural fascism. When our very own censors reach a decision you'll be the first to know.
Are you ridiculously young? Will you be wearing a false beard to get into Prometheus? Let us know below!
About The Author