Pythons to reunite for 3D Graham Chapman animation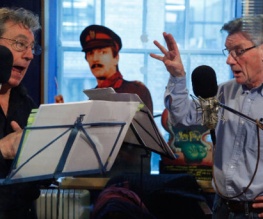 Most of the surviving members of cult comedy troupe Monty Python are to reunite for an animated film based on the late Graham Chapman's memoirs.
A Liar's Autobiography (Volume VI) will star the voices of John Cleese, Terry Jones, Michael Palin and Terry Gilliam, although sixth Python Eric Idle is not (yet) involved in the project.
The film will be created by 15 different animation companies, each working in a different style to produce a chapter between 3 and 12 minutes in length – assuming a high degree of fidelity to the book, these will cover topics as varied as Chapman's sexuality, alcoholism and time at medical school as well as his comedy career. The original memoir also contains passages from other writers (including Douglas Adams) which openly question the veracity of Chapman's writing.
The animation will be produced in 3D – co-director Jeff Simpson observed that this would certainly please Chapman as "he loved wearing silly glasses." Chapman himself will narrate the film via a recording he made of the book in 1982, although new lines recorded by Cleese will be mixed in. Jones and Palin will play Chapman's mother and father respectively, whilst Gilliam will, as usual, shoulder all manner of odd little parts.
Terry Jones said: "I had no idea until recently that Graham Chapman is in fact dead—I thought he was just being lazy. However, I am now delighted to find myself working with him again on this exciting project."
A Liar's Autobiography: Volume VI will air on the American channel Epix early next year before being distributed in Britain. Hurrah!
About The Author