R.I.P.D. gets first trailer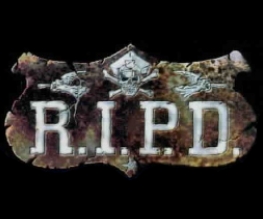 You read that right! Finally after what feels like years of waiting our first look at R.I.P.D. has arrived! Last week's enticement was the first official image and it seems that the build up to the flick's August 30th release date doesn't end just there. Robert Schwentke's (director of R.E.D.) adaptation of the Peter M. Lenkov graphic novel has brought the hype with a cracker of a clip!
Sink in to 2 minutes and 51 seconds of undead goodness:

Heavenly, ain't it?! The story of a slain cop joining a team of undead police officers is ultra cool to begin with and Schwentke seems to keeping up the mood with some mad visuals. It's got a sense of the first Men in Black to it which is frankly all the hope we need. Ryan Reynolds is tailor-made for Nick Walker's fish out of water role but our favorite for right now is Jeff Bridges as the cowboy Roy Powell. We're not sure we can wait until August for R.I.P.D. to bring the funny but we supposed there is some consolation in having the trailer on repeat.
Does your geek-out match ours? Tell us here!
About The Author