Rango proves 3D isn't a necessity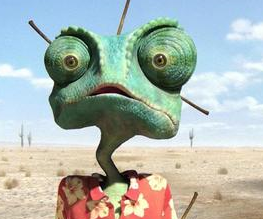 Opening this weekend in the US, Rango put every other release to shame – clocking up a hefty $38 million. This makes it the highest opening-weekend earner of 2011 (a position held by The Green Hornet until now).
The CGI adventure stars Johnny Depp as a cheerfully-tshirted chamelion who apparently roams the deserts narrowly avoiding death by bird. Hey, it's not our fault we're still in the dark: the trailers have been more interested in pushing the fact that its directed by Gore "Pirates Of The Caribbean" Verbinski and stars Johnny Depp than anything else. But heck, according to the stats, the marketing is working. And the fact that its not in MIND POPPING/EYE-MELTING/WALLET-EMPTYING 3D doesn't seem to have done any harm. Do you hear that, Disney? IT HASN'T DONE ANY HARM.
So, will Rango do as well in the UK, or are we going to be swayed by the Matt Damon suit-fest that is The Adjustment Bureau? Let us know what you'll be watching…
About The Author