Rebecca Hall and Bruce Willis in trailer for Lay the Favorite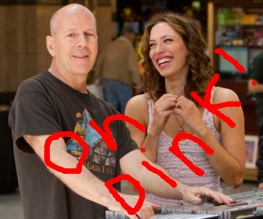 Rebecca Hall, English rose and purveyor of long-faced melancholic expressions, takes centre stage – and steps dramatically out of type – in this new comedy from the makers of cult classic High Fidelity. And here you have a delicious trailer to whet your appetite. Look! Bruce Willis as well! And Catherine Zeta-Jones and Pacey! All the big names under one trailer roof.
So let's check this out:
OK. OK. So. What is this film about? Seriously, what is this about? Does anyone know? Gambling? Is that it? Rebecca Hall is all tanned and has a weird baby voice and she's working with "Dink" who gambles for a living? Is that it? And then Catherine Zeta Jones is a "jinx" but she's also called "Tulip"? GET ME SEVENTY THOUSAND DOLLARS IN FOUR MINUTES. I DON'T USE SUNSCREEN. TULIP PILATES GOLF. SUN ROOF HEAD?
According to the helpful folks at Cinema Blend, Lay the Favorite stars Hall as "Beth, a former dancer who travels to Las Vegas to become a cocktail waitress. Fate proves to have another plan for her, as she ends up getting mixed in with an old-school professional gambler named Dink. When Dink begins a bad losing streak and starts have trouble with his wife, Tulip, however, Beth finds herself in serious trouble and in search of an exit strategy". OK, that sounds like a film probably. Certainly we have faith in the writer-director combo of D.V. DeVincentis and Stephen Frears, seeing as High Fidelity was great and all that.
But still. Why are they all in the car like that? WHAT ARE THE STAKES? Why is Pacey in this? Did you know he's married to Diane Kruger? Why is Catherine Zeta-Jones called Tulip?
Voice your own queries below and we'll do our very best to answer them or at least break down in tears of frustration.
About The Author