Red 2 gets first trailer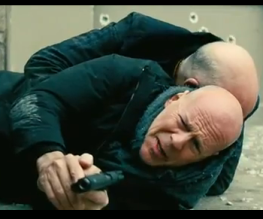 Attention Red fans! A spiffing new trailer has just been released for Red 2! The excitement here at BFF is almost PALPABLE. Not only are there more guns, bombs, guns and wrinkly faces, but Catherine Zeta-Jones (Red newcomer) actually SNOGS Bruce Willis (do people still say 'snog'?). Jaume Collet-Serra has directed the Red sequel, who has previously killed off Paris Hilton in House of Wax, so we're expecting good things. Red 2 will also star newcomer Anthony Hopkins, who just passed the minimum age requirement and is only in this trailer for about 2 seconds, looking through a peephole (prison cell?). We just can't wait.
CHECK OUT ALL THE OAP HIGH-OCTANE FUN BELOW:
How much did you just never want to see Catherine Zeta-Jones snog Bruce Willis?
Poor old Brucey (the CIA's best, they'll have you know) hasn't killed anybody in months, or at least since A Good Day to Die Hard finished filming, and now MI6 want to kill him. This guy just can't catch a break. He's like Liam Neeson, only better. The trailer also shows John Malkovich spooning Willis. What is going on? It looks like we'll be in for more comedy-action than ever before. Are you thrilled? We knew you would be.
Unfortunately we can't tell you where all this hip-breaking action is taking place, but from what we've gathered from the trailer it looks to all be going down in London town, Moscow and Paris. And America. Über cultural. Helen Mirren also smashes a guy's face on a desk, and John Malkovich wears a funny hat. But that's enough Red 2 news for now. Gosh, we're good to you. You'll have to wait until August this year to see the full impact of Zeta-Jones and Willis' yummy snog. Meanwhile, check out the unofficial poster for Red 2!
Auditions for Red 3 are happening now. Leave your grandparents' details below.
About The Author