Resident Evil: Retribution Gets a Trailer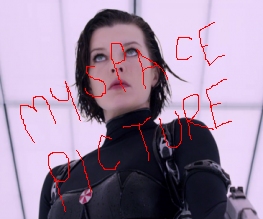 Considering that every new Resident Evil movie is just the last Resident Evil movie in more dimensions and a slightly different outfit, Paul W. S. Anderson's franchise has done remarkably well for itself. Which is all the more surprising when you take into account just how little T-virus-addled DNA the film series actually shares with its gaming origins.
The first full trailer for fifth instalment Retribution is online and it does little to shake things up. Once more, Alice is seen awakening in some Umbrella stronghold. Once more she has to face off against zombies, mutants and someone who looks scarily like Mark Kermode, and once more there seems to be a whole new group of human survivors for the undead to mop up in super slow motion.
And it looks wonderful. Inexplicably returning Michelle Rodriguez and Oded Fehr to the fold after their respective deaths in films one and three respectively, Retribution sees Milla Jovovich forced to rethink everything she thinks she knows after a "mind-blowing" revelation. The film is due for U.K. release on September 28, 2012.
Can a fifth instalment do for Resident Evil what it did for The Fast And The Furious? We'll just have to wait and see…
About The Author