Ricky Gervais tones it down for the 2012 Globes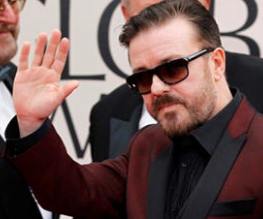 Oh come on Ricky, what happened to that powerful hate? After blowing the doors off the Golden Globes ceremony last year with vitriolic comments about Tom Cruise, Johnny Depp, Charlie Sheen and (our personal favourite), introducing Bruce Willis as "Ashton Kutcher's dad", the Office star seemed to tone down his acerbic wit for last night's 2012 outing. He basically kept it to calling Colin Firth a racist, and jokes about Jodie Foster's Beaver which we're pretty sure he stole from snarky comments made in the BFF offices from May-June 2011.
Managing to shoe-horn in a marketing push for his monumentally disappointing show Life's Too Short, Ricky kept it fairly clean this year, disappointing wince-grabbers across the world. There was a couple of good shots at Eddie Murphy and Adam Sandler ("did you know that between them, Eddie Murphy and Adam Sandler played all the roles in the movie The Help?") and another punt at Johnny Depp's The Tourist, but having had to submit his script to the FPAA for approval this year, it might have been that the seriously gasp-worthy stuff had been metered out. Still, it's not like Gervais to stop himself from saying things he thinks are really funny, so we'll almost certainly get a lengthly blog on it from him any moment now. Check out his opening gambit below, and prepare to be mildly amused:
Till next year, Ricky.
About The Author