Riddick 3 Plot Revealed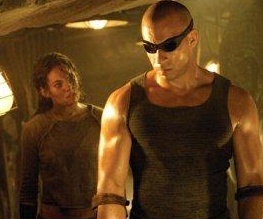 Last week saw the announcement that Riddick 3 was definitely underway, and we have to say, we're pretty gosh darn sort of ish not really excited about it. Oh come on, it's Riddick 3! How much more snarling can Vin Diesel have in him? A lot more, apparently. After stating that this time around the plot would go 'back to basics', today The Hollywood Reporter has revealed a lot more details. And it's.. well… not exactly what we thought of when we heard 'basics'.
"Though billed as a back-to-basics approach to the character popularized by Diesel, the script features the character — the most wanted man in the galaxy — left for dead on a barren alien planet, dealing with "trisons" (three-legged bisons) and "mud demons."
He must then contend with two squads of bounty hunters, one of which ride rockets called jetcycles."
Trisons! Mud demons! Rockets with names already attached! Who cares about character developement, story or moral message? As long as you know what you're calling your rockets, you're alright with us.
David Twohy will be the penner of this epic, and considering he wrote and directed the first two Riddick films, we reckon the movie is in safe, relatively predictable hands. Let the exploding commence!
How excited are you about the mud demons? Extremely, or just very? Let us know below!
About The Author