Rihanna is tooled up and ready for action in new Battleship posters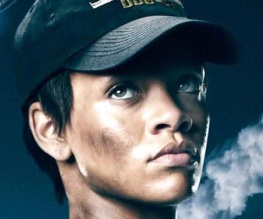 It's now just over a month until Battleship docks in UK cinemas, and for some reason Peter Berg et al have decided to commemorate the occasion by releasing some French and Italian posters for the Titanic-style disaster. (That's Titanic as in the ship that sank, not Titanic as in the massively successful film about the ship sinking. Easy mistake to make.)
Carrying the tempting legend "From Hasbro the creators of Transformers" and the strapline "The battle for the Earth begins at sea", the posters show stars Liam Neeson, Alexander Skarsgård, Taylor Kitsch and BLOODY RIHANNA, as well as a Big Daddy from BioShock or something. Look at these (click them and they'll get MASSIVE):
We don't have a single solitary thing to say.
Battleship is out on 11th April (the posters lie, unless you're in Italy). Don't see it.
About The Author