RIP Ingrid Pitt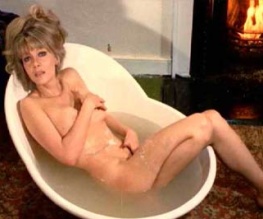 Ingrid Pitt, the Hammer Horror heroine with the most memorably blood-spattered breasts in the genre, has died days after her 73rd birthday.
The Polish-born actress, who was imprisoned in a German concentration camp as a child, found fame in the gory, explicit and excruciatingly named horror flicks of the 70s – our favourite carried the tagline "TERROR waits for you in every room in The House That Dripped Blood".
She was best known for her performances in Countess Dracula, a film about 'Blood Countess' Elizabeth Báthory, and controversial lesbian horror The Vampire Lovers, directed by Roy Ward Baker (who predeceased her by only a few weeks). She also appeared in The Wicker Man (pictured) and frequently visited the convention circuit in her later years, as well as writing books including The Ingrid Pitt Book Of Murder, Torture And Depravity and inexplicably appearing on a late-90s Cradle of Filth album.
According to her daughter, Pitt wanted to be remembered as the Countess Dracula "with the wonderful teeth and the wonderful bosom", and who are we to argue? Here follows our tribute to her unique gifts:
Ingrid Pitt 1937-2010
RIP
About The Author