RIP Leslie Nielsen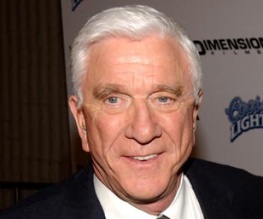 Veteran comic actor Leslie Nielsen, best known for starring in spoof comedies Airplane! and The Naked Gun, has died at the age of 84.
Nielsen began acting on television in 1950 and made the leap to Hollywood later that decade, employing his imposing height and craggy good looks as a classic leading man for more than twenty years in films such as Forbidden Planet and The Poseidon Adventure.
However, the man Roger Ebert dubbed "the Olivier of spoofs" finally found his true calling in the 1980s when he starred in cod disaster movie Airplane! and anarchic cop comedy The Naked Gun. He appeared in sequels to both films but then, alas, became hopelessly typecast, reprising his twinkly-eyed idiot act for dozens of cameo appearances in a variety of critically panned films. He continued to work up until his death, with a new film out this year and Naked Gun 4: Rhythm of Evil reportedly in pre-production.
Nielsen leaves two children and many, many ex-wives. His loss will be sharply felt throughout Hollywood.
RIP Leslie Nielsen
1926-2010
About The Author