RIP Michael Clarke Duncan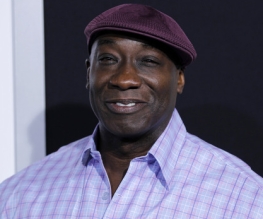 Oscar-nominated actor Michael Clarke Duncan, best known for his breakout role as John Coffey (like the drink, but not spelled the same way) in The Green Mile, has died in a Los Angeles hospital. He was fifty-four.
Duncan had been in hospital since suffering a heart attack on July 13th; his girlfriend Omarosa Manigault-Stallworth managed to restart his heart using CPR, despite the sheer size of his 325lb frame.
After working for a gas company in his native Chicago, Duncan moved to Los Angeles in the nineties to pursue his dream of being an actor. He found work as a bouncer and bodyguard (for stars including Will Smith and Biggie Smalls), and scored a few small parts before striking up a friendship with Bruce Willis on the set of Armageddon. Willis helped the 6'5 actor win the role of gentle giant John Coffey in Frank Darabont's The Green Mile (1999), and one Oscar nomination later his reputation was assured.
In the early 2000s, Duncan went on to play a wide variety of characters which established him as a mainstream supporting actor. These roles included barbarian warlord Balthazar in The Scorpion King (with his friend The Rock, who has been mourning Duncan on Twitter), pious gorilla general Attar in Tim Burton's Planet of the Apes and mobster kingpin Kingpin in the otherwise irretrievable Daredevil, starring Ben Affleck as a blind lawyer who hits people. His imposing presence led to a certain amount of typecasting, but Duncan also took comic roles in films like The Whole Nine Yards (starring his old pal Willis) and embraced the opportunities provided by voice acting to play Sam the sheepdog (Cats and Dogs), Tug the wise old grizzly (Brother Bear), Stinktooth the Tyrannosaurus (Dinotopia: Quest for the Ruby Sunstone), cursed Titan Atlas (video game God of War II) and, of course, Commander Vachir the Javan Rhino (Kung Fu Panda).
Duncan is survived by Manigault-Stallworth, who was referred to as his fiancée for the first time in the press release reporting his death. His loss leaves a vacuum in Hollywood which it is hard to imagine any of our current stars filling.
RIP Michael Clarke Duncan
1957-2012
About The Author