RIP Michael Winner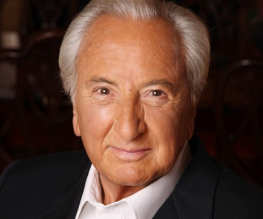 Director, critic and insurance salesman Michael Winner died yesterday, aged 77. He had been suffering from liver disease for some time, and was given 18 months to live just last year.
Best known for his Death Wish series of films starring Charles Bronson, Winner found a measure of success in Hollywood and went on to make films including The Sentinel, The Mechanic and the Gilbert & Sullivan adaptation The Cool Mikado. Winner's first success came at an early age, however, when he began writing for the Kensington Post at age 14 and began his career in film as an assistant director of BBC television. Soon after, in 1958, he gained his first on-screen recognition writing Man with a Gun. His first directorial achievement came with 1960's Shoot to Kill.
After his last (and critically derided) film, Parting Shots, was complete, he rarely strayed too far from the public eye. He was barred from a number of restaurants in the 90s, both for his acerbic Times reviews (under the banner 'Winner's Dinners') and for his famed truculence; among other things, Winner insisted on having all restaurant bills sent to his house rather than settling them at the end of the meal. He wrote his final restaurant review last month. Winner also helped inaugurate the Police Memorial Trust in 1984 and found a new generation of 'fans' by appearing in the infamous "Calm down, dear…" adverts for insurance company esure.
Legendary actor and comedian John Cleese, who appeared in Parting Shots (1998), lamented, "I have just heard the very sad news about Michael. He was the dearest, kindest, funniest and most generous of friends… I shall miss him terribly." Composer Andrew Lloyd Webber also paid his respects on Twitter, whilst almost everyone else stuck to referencing that time he called Richard Littlejohn an arsehole in 1994.
"I do not lurk. I ponce about, cause trouble, bring light and happiness to the world and generally behave with impeccable (if misplaced) self-assurance." – Winner on himself.
"If you're not clear if Victoria's bosom are firm [sic], go there and get a hold on the situation." – Michael Winner on columnist and poker ace Victoria Coren. Charming.
RIP Michael Winner
1935 – 2013
About The Author