RIP Tom Clancy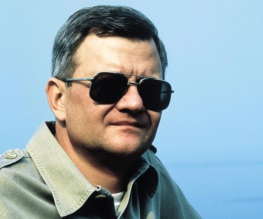 Legendary thriller writer Tom Clancy has died aged 66, his publishers have confirmed.
Clancy was working as an insurance broker when his first novel, The Hunt for Red October, was published in 1984. The book was an instant sensation and was adapted into a film starring Alec Baldwin and an incredibly unconvincing Sean Connery, marking the first of a string of films and video games to bear the inimitable Clancy stamp.
Clancy's most famous character Jack Ryan, an investment broker who becomes an academic, a counter-terrorist holidaymaker, a CIA agent and eventually President (twice), has been played not only by Baldwin but by Harrison Ford (in Patriot Games and Clear and Present Danger) and Ben Affleck (in The Sum of All Fears). Chris Pine is due to inherit the character later this year in origin story Jack Ryan: Shadow Recruit, inexplicably directed by Kenneth Branagh.
Tom Clancy published almost one book a year, making him quite absurdly rich. He spent his money on having loads of kids, really loving the Republican Party (Ronald Reagan called The Hunt for Red October "my kind of yarn") and, unexpectedly, video games – Ubisoft bought his production company Red Storm for an undisclosed sum in 2006, and continues to make games in the Tom Clancy's Splinter Cell and Tom Clancy's Rainbow Six series.
Clancy is survived by his second wife Alexandra, their daughter Alexis, and four children from a previous marriage. He began a new chapter in the annals of popular literature, memorably gave a character based on the Prince of Wales the incredible line "I am adept with light weapons" and was indirectly responsible for one of Sean Bean's best ever onscreen deaths – falling over and impaling himself on an anchor whilst on a boat that subsequently explodes. We shall not see his like again.
RIP Thomas Leo Clancy, Jr.
1947-2013
About The Author