RIP Tony Curtis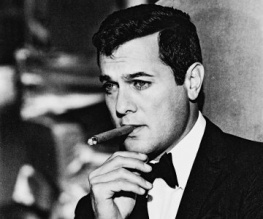 This has been a desperately sad week for the silver screen. In the last few days, showbiz has already lost Gloria Stuart, Sally Menke and Arthur Penn, and yesterday we learnt with dismay that the legendary actor and 'Elvis of Hollywood' Tony Curtis has died of a cardiac arrest. He was 85.
Born Bernard Schwartz, Curtis began acting in 1949 with a minor role alongside Burt Lancaster in Criss Cross.
He starred in his first major picture just a year later at what was to be the start of a fifty-nine year career on screen, carrying him up to his most recent role in 2008's David and Fatima. Curtis appeared in some of the most high-profile films of the 50s and 60s, including Some Like It Hot, Spartacus and The Boston Strangler, and became one of the most notorious playboys in Hollywood, marrying six times and having a brief affair with Marilyn Monroe. In his later years he became more involved with his native Hungary, promoting tourism to Eastern Europe and founding the Emanuel Centre for Hungarian Culture.
Curtis is survived by five of his six children and Jill Vandenberg, his wife since 1998.
He will be sorely missed.
About The Author