Rita Ora cast in delayed Fifty Shades film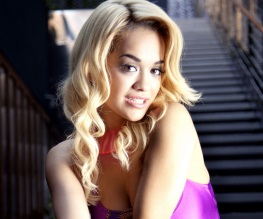 Singer-songwriter Rita Ora is to appear in the film adaptation of Fifty Shades of Grey, which has now been delayed for so long that by the time it comes out EL James will be dead (good).
MOBO winner and Brit Award nominee Ora is not entirely new to the world of film. Her onscreen career to date consists of of a role in woeful Britflick Spivs (my uncle invested in it; it's awful) and a seven word cameo in last year's Fast 6. The words, if you're interested, were "This", "is", "London", "baby", "ready", "steady" and "go". It was pretty moving.
In Fifty Shades of Grey, which will now be released on February 13th 2015 so lonely women can go and see it instead of staying at home staring at the wall, Ora will play the younger sister of Jamie Dornan's Christian Grey. Dakota Johnson is playing virgin-but-not-for-long Anastasia Steele, whilst Jennifer Ehle and Max Martini are due to appear in lesser roles. Sigh.
Yep, we're still reporting on this nonsense. We don't know why either.
About The Author